---
Process Automation | 25-Jul-2016 | 02:21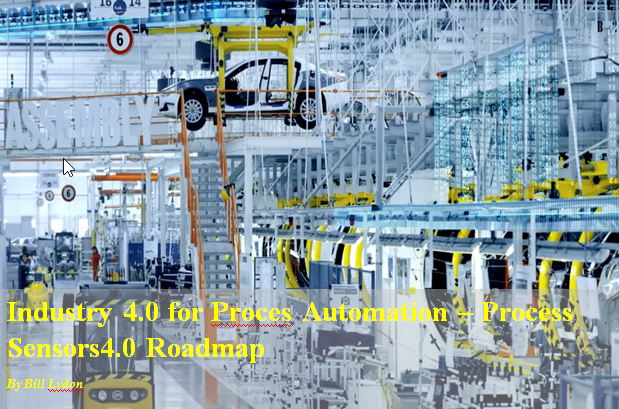 The application of Industry 4.0 concepts to improve process automation is a logical step, given the advanced technology available to today's industry. One such application is NAMUR's Process Sensor 4.0 Roadmap, published in 2015, which describes smart networked sensors as a foundational part of the Industry 4.0 architecture. 2015's Hannover Fair first introduced me to the benefits of Industry 4.0 for process automation. During several vendor demonstrations, I witnessed process applications with linkages from field level devices to process control, and directly to business systems, value chain, engineering, and planning systems. Direct connection of sensors to these systems, as I described in my Simplifying Automation System Hierarchies article, is another example of making system architectures leaner. In short, Industry 4.0 is the change from rigid, preconceived, hierarchical production systems to dynamic, flexible, self-configuring and self-optimizing, integrated and intelligent networked systems and processes. NAMUR's Process Sensor 4.0 Roadmap is a prime example of the industry rising to meet the challenge.
As previously stated, the 2015 Process Sensor 4.0 Roadmap describes smart networked sensors for process industries to support Industry 4.0 concepts in process applications. The Roadmap was initiated by NAMUR and VDI/VDE in collaboration with several prominent leaders in the industry, including: ABB, BASF, Bayer Technology Services, Bilfinger Maintenance, Endress+Hauser, Evonik, Festo, Krohne, Lanxess, Siemens, and Fraunhofer ICT.
A bit about the drivers behind the Roadmap :
is an international association of user companies (established in 1949) and represents their interests concerning automation technology. Organizational goals include: achievement of added value through automation engineering and facilitating, "frank and fair dialogue", with manufacturers.
Association for Electrical, Electronic & Information Technologies is one of Europe's largest technical-scientific associations, with over 36,000 members. The organization has primary offices in Frankfurt, Berlin and Brussels as well as 29 branch offices throughout Germany. The VDE also works closely with the Institute of Electrical and Electronics Engineers (IEEE) (https://www.ieee.org).
VDI/VDE Society for Measurement and Automatic Control (GMA) is a joint organization of the VDE and the VDI, which provides users orientation about the current trends in automation being supported by innovations in information technology, microelectronics, optics and sensorics (advanced measuring technologies). The Society organizes meetings, conferences, seminars and other events to promote the transfer of know-how.

Technology Roadmap: Process Sensors 4.0
The Process Sensors 4.0 Roadmap highlights the opportunity for the optimization of process control and value-added production through the use of "smart" networked communicating sensors. These "smart" sensors provide services within a network and use information from the network as a foundation, with which to implement Industry 4.0 Cyber Physical Systems (CPS) within future process industry automation systems. The core concept for these new breed of sensors is that they are intelligent and can communicate simultaneously and directly to control systems and business systems. These sensors are implemented by leveraging embedded computing technology, which has become pervasive in consumer and computing products.
The Process Sensors 4.0 Roadmap goes beyond previous roadmaps, which tended to focus almost exclusively on technical requirements of sensors and their operating principles. Instead, the new Roadmap focuses on how to achieve greater efficiencies with sensors that have embedded intelligence, communications, and an information system interface based on Industry 4.0 concepts. The Roadmap describes how communication, and the management of information, will become increasingly important as information from sensors is integrated into business systems. New technology, the Roadmap notes, will simplify application engineering and maintenance using "Plug and Play" smart sensors. The report shares how new developments, from IT and medical technology, are creating the possibility for improved process sensors, leveraging miniaturized components with extremely low pricing. These devices also utilize advances in configuration software to simplify project engineering and maintenance. For example, new smart sensors may have the ability to measure several metrics, calibrate and optimize themselves, and interact directly with other sensors and actuators, thus performing control and automation independently.
The Roadmap identifies the necessary requirements, as well as the communication abilities, of smart process sensors from simple temperature sensors up to the more complex. Important smart sensor features noted in the document include:
Autonomous Sensor Interaction (peer to peer)
Sensor Verification (Logical verification using adjacent sensors)
Plug and Play (Self-configuration / parameterization)
Virtual Description Supporting Continuous Engineering
Traceability & Compliance
Self-Calibration
Self-Diagnosis
Connectivity & Communication using a Unified Protocol (OPC UA)
Maintenance & Operating Functions
Energy Self-Sufficiency (Energy Harvesting )
Wireless Sensors
Sensor Data Access Rights Control
Standards Compatible (i.e. Good Manufacturing Practice – GMP; U.S. Federal Drug Administration - FDA )
The application of Industry 4.0 and Internet of Things concepts and technologies is part of an ongoing discussion with ramifications throughout the entire industry. Smart sensors with embedded intelligence, that can communicate for control and integrate with enterprise business systems, represent a clear system architecture change for process automation and control and the revolutionary change that the new technologies can help usher in.

source: automation.com